Combatting Spam Comments
At this site, comments are open to all visitors, without the need to register or log in, and that's the way we like to keep it.
However, that does mean we're a target for spam comments.
Spam comments usually contain a lot of links to whatever the spammer is selling, so we already filter those type of comments out and keep them from appearing on the site. But since these comments are usually posted by bots rather than humans, they don't care how often they have to try, or even realize their comments are not showing up.
Therefore we're now trying something new in the fight against comment spam: a CAPTCHA. This is a test to see if the commenter is a human, rather than a computer (e.g. a spambot).
This is what you'll see next time you preview a comment: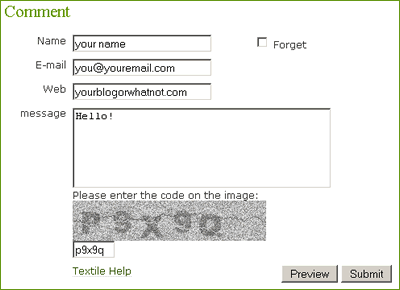 You can preview all you want without entering the code, but you have to enter the right code to submit your comment. The characters used are numbers and CAPITAL letters with the exception of 0 (Zero) and O (Oscar) to avoid confusion. If you have difficulty reading one particular code, just hit 'Preview' and another one appears. Should you get the code wrong, you'll be invited to try again. After three failed attempts your comment will be added to the moderation cue: it is entered into our system and email to the author, but needs to be accepted by one of the admins before it appears on the site.
If you have any problems at all, please let us know at admin@faramirfiction.com.
And please keep adding those comments – it's what keeps authors and artists motivated to write / draw / paint more!
Filter
Adult content is hidden.
NB: This site is still for adults only, even with the adult content filter on! [what's this?]