OpenSearch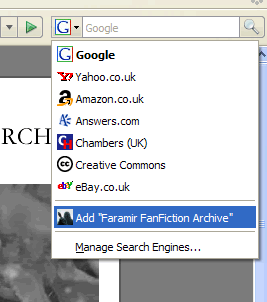 Hmm… yes… there's probably not a whole lot of people waiting for this, but I do like my toys.
The OpenSearch protocol is compatible with, amongst others, Firefox 2 and Internet Explorer 7.
Installing the plug-in is as easy as pictured: click the search engine drop-down while you're on any page at the archive, and there'll be the option to add our engine.
Filter
Adult content is hidden.
NB: This site is still for adults only, even with the adult content filter on! [what's this?]